The National Institute of Oceanography and Fisheries (NIOF) was first established in 1924 as the Hydrobiological Institute of the Egyptian Fisheries Directorate. By that time it was located at El-Shatby in Alexandria. In 1931, it was renamed to "The Alexandria Institute of Hydrobiology" and relocated at Qait-Bey near the Eastern Harbour of Alexandria, where the Mediterranean Branch of NIOF is presently located.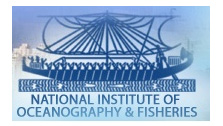 In addition to its headquarters located in Cairo, NIOF comprises four branches that carry out research in specific thematic and geographic areas:
Mediterranean Sea Branch: Located in Alexandria with its key laboratories, library and research stations affiliated to this branch. The central laboratory has quality control/quality assurance system based on ISO/17025.
Gulf of Suez and Aqaba Branch: Located at Attaka (near Suez city)
Inland Water and Aquaculture Branch: Located in Kanater with its laboratories and research stations located in different governorates.
Red Sea Branch: Located in Hurghada

The Egyptian National Oceanographic Data Center (ENODC) was established in National Institute of oceanographic and Fisheries (NIOF), Alexandria, Egypt in 1971 for purpose of enhancement of oceanographic services, management and sustainable development of coastal and marine resources, and promotion further marine research by making oceanographic data and products available to reserahers, policy makers and the marine communities. The ENODC has a very strong relation and connection with the international oceanographic data and information exchange system (IODE).